First-Year Student Cycle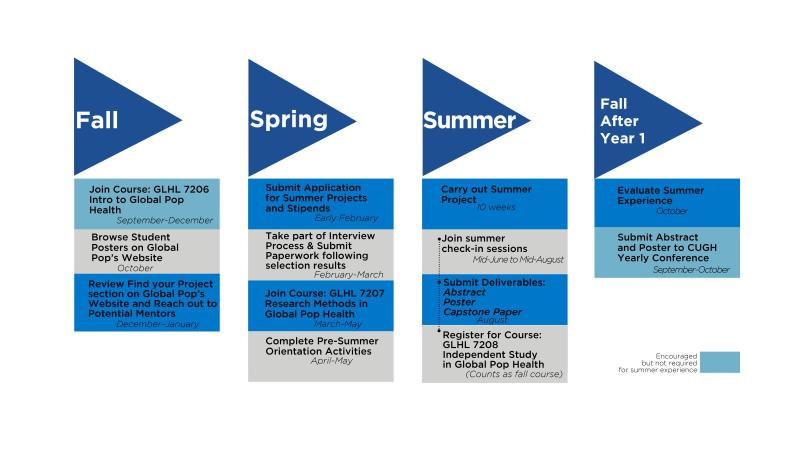 The summer research projects are the culmination of a yearlong effort, starting in the Fall of their first year of medical school. In this period, students are accompanied through workshops, coursework, info sessions and meetings with their mentors and sites, prior to conducting their summer projects. 
Fall Year 1
The Introduction to Global and Population Health course runs. This is a 3 credit course that runs for 12 weeks. Course credits can be applied towards any track of the MD-MS in Biomedical Sciences if so desired.
Incoming students are invited to take the Introductioin course and browse our website to learn about projects from the past summer and future research opportunities.
Spring Year 1
In early January, interested students submit their application to participate in our Summer Program and take part of our interview process in February. Decision notices are issued in March.
Selected students must register and take part of our Research Methods in Global and Population Health (GLHL 7207), where they will acquire relevant skills and develop a research plan for the summer.
In April, selected students must take part of our pre-summer orientation, where university-wide support offices offering support to students conducting research abroad present their resources. We also organize a number of activities around Cultural Humility and on the Ethics of Global Health. The Global Pop office provides orientation on summer deliverables and other paperwork. Students take an appointment at Student Health Services for any required vaccinations/medications.
In May, selected students receive an advance on their summer stipend.
Summer Year 1
Students complete their 8-week summer project abroad or 10-week project in NYC.
In the month of August, students submit an abstract and a poster.
Students who wish to obtain credits for their work over the summer and pursue the MD-MS degree must also submit a capstone paper. Upon the submission of the capstone paper, students will be awarded 3 credits for the Independent Study in Global and Population Health course (GLHL 7208) in the Fall. 
Fall Year 2
Students wishing to obtain the 3 credits via the Independent Study in Global and Population Health must register for the course via OASIS and will obtain a Pass/Fail grade in the Fall semester. Credits count towards any track of the MD-MS in Biomedical Sciences. There is no other coursework associated with this course beyond the three deliverables (abstract, poster, and capstone paper) submitted in August.
Student deliverables will be posted on Global Pop's website.